Code Of Conduct

1. The site you are applying with must be your site. I do not have the time or patience to check with the owner.

2. The site you are applying with does not have to be B/A, but must relate to the shows in some way.

3. Be sure your site meets the requirements of the specified award.

4. The site has to be in English.

5. You must link the award back to Seductive Web.

Sidenote: Awards are larger than what is shown.

Bewitching Beauty Award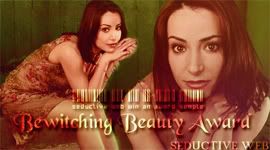 Easiest To Win. Must have at least five pages of navigatable content. I don't care what it is, as long as it pertains to the shows. This award is best for new sites, or sites that have that potential to be amazing sites!
Savvy Siren Award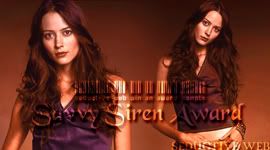 Somewhat harder award to win than BB. This award pertains to good content and somewhat great graphics/layout. Site must have ten pages of navigatable content, with the same as the BB requirements. Site must be updated monthly.
Golden Goddess Award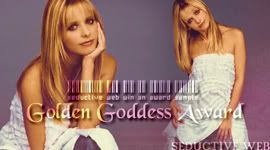 Harder award to win than Savvy Siren & Bewitching Beauty. Site must have a combination of amazing graphics and content. Site layout must be made by you, which means, it cannot have anything layout wise that other people made for you. Must have at least fifteen pages of navigatable content, with the requirements the same as the previous two awards. Site must be updated every two weeks.
Naughty Nymphet Award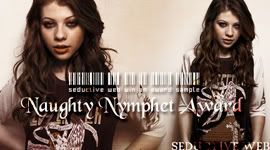 You cannot apply for this award. This is for those amazing sites, the ones that you bookmark and keep going back to. If I feel your site should be in compliance, I will give you this award. I'm pretty anal about the sites that I give this to, so don't feel bad if you don't recieve this award!
If, for some reason the form does not work, please email me with the information.
© Seductive Web 2004